Accessibility statement
We want as many people as possible to be able to use our website and enjoy a positive experience. That means you should be able to view information in a way that suits you best.
UserWay Accessibility Widget

Our widget can be accessed by clicking the accessibility logo. This will open up a range of accessibility features for you to use to customise your experience.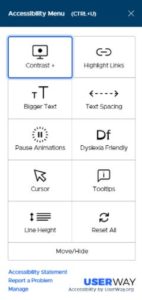 About UserWay Accessibility Widget
The UserWay Accessibility Widget offers a broad selection of functions that you can use to personalise the way you use our website.
You can
Change colour contrast,
Listen to text instead of reading it,
Increase text size,
Pause animations,
Increase the mouse size,
Highlight links,
Increase spaces between text,
Change font style,
How to use our accessibility widget
Watch our video to learn more about how you can adapt your viewing preferences to make it easier to visit our website.
Information about the accessibility of our website
Access our website in a way that suits you best
All parts of our website – including menu sub-items - should be reachable using keystrokes like Tab, Arrow keys, Enter and Escape. This benefits people who do not use mouse or touch gestures.
Our tab order should be logical and predictable,
Navigation will be consistent from page to page,
Keyboard-only users can easily see where the current Tab focus is because we provide an obvious tab highlight/focus,
We've used structured headings to help assistive technology navigation within long pages,
Our website reflows when magnified meaning text stays on the page and is fully visible,
We have provided captions or text equivalents allowing you to read what's been said in any audio or video content we share. (This needs to be addressed in the existing counselling video and also making sure that all future videos include captions or text equivalents).
We know some parts of this website are not fully accessible
We are committed to making our website accessible. We know that our website is partially compliant with the Web Content Accessibility Guidelines version 2.1 AAA standard but there are some features which make it less accessible.
Things you might struggle with
Our colour contrasts might not be as accessible as we'd like them to be. These are our existing brand colours, and we'll review this when we undertake our next re-brand. In the meantime the UserWay contrast feature should help you view our website with different colour contrasts.
Some of our pages link to or embed external content (such as google maps or social media). These might not be accessible to assistive technology users.
Some of our downloadable documents (for example our application or referral forms) might be problematic for screen reader users.
How we assessed our website
We used a mixture of:
Automated testing using the Webaim WAVE Web Accessibility Evaluation Tool,
Manual checking for heading structure and text to speech on Chrome and
Firefox browsers using extensions such as HeadingsMap, and the ClaroRead
Chrome browser add-on.
Checking sample pages using Jaws for Windows screen reader on a PC and VoiceOver on an iOS device,
Checking colour contrasts using the TPGI colour contrast analyser.
Reporting accessibility problems with this website
We're always looking to improve the accessibility of this website. If you find any problems not listed on this page or if you would like to draw our attention to an inaccessible area of the site please contact us, please be as specific and detailed as you can to allow us to address these issues. Please also tell us if you had a good experience on our website.
If you need information on this website in a different format please don't hesitate to contact us.
Further guidance on accessibility
The AbilityNet website has advice on improving web access if you have a disability